Art Glass of America
Stained Glass Window Inspection
Potential Problems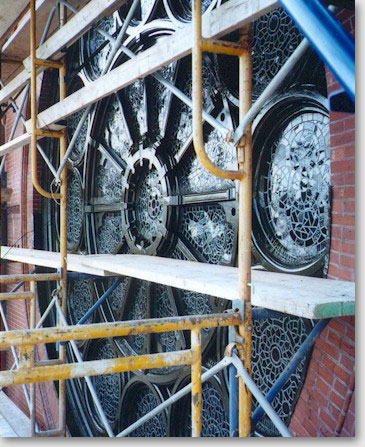 Stained glass streaked with water trails, windows that appear bowed and missing glass are but a few of the symptoms that indicate the need for professional attention. Often the layman can spot some of these problems, while other more serious problems require an examination by a trained professional. Periodic inspection is key to maintaining the value and beauty of your investment.
Stained Glass Inspection Service
At your request, we can perform an inspection free of charge. Many times, repairing a small problem before it requires major restoration work can save thousands of dollars.
Dependable Quick Action
You can rely on Art Glass of America for quick action when unexpected weather, vandalism or fire damages your stained glass. We are on call 24 hours a day.
Get Started
You may request an on-site inspection to identify existing or potential problems at no charge and without obligation. Whatever your specific needs, simply call (508) 655-4242 today.