Art Glass of America
Professional Restoration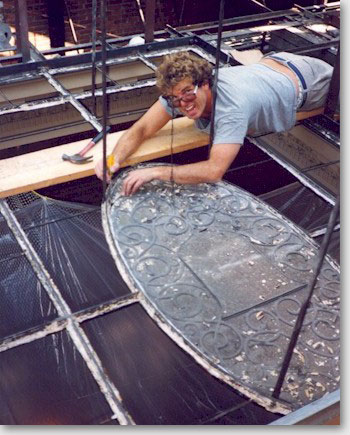 Architectural Expertise
Art Glass of America provides a complete knowledge of stained glass windows, with architectural expertise. Our detailed knowledge of architecture, both in period styles and structural techniques, is grounded in formal architectural training and hands-on experience.
Restoration Research
When restoration is necessary, we first try to identify the original studio that created the piece. Researching the studio, its techniques, as well as the type of stained glass used are important to properly restoring your building's stained glass to its original condition. Proper restoration can involve more than just replacing glass. It is important to remedy any problems with grouting or the structural integrity of the framework.
Maintain Stained Glass Value
Professional restoration maintains the original integrity, beauty and value of your window. Whether the replacement of a single piece of glass is called for, or the reconstruction of an entire window, Art Glass of America will meet your needs.